Best Braces in Chandigarh
Braces in Chandigarh – If you are looking for a way to improve your smile and your overall oral health then Braces might be the perfect solution for your need. Braces are devices that put gentle pressure on your teeth and jaw to correct various alignment issues. Such as crooked teeth, overbite, underbite, crossbite and more. Braces can also help in tooth decay, gum diseases and jaw pain.
But now the question arises how do you choose the right type of braces for your requirement? There are many options available in Chandigarh and each one has its own advantages. In this article, we will guide you through some of the most common types of Braces in Chandigarh and help you make the right decision.
Types of Braces in Chandigarh
1. Metal Braces – Best Braces in Chandigarh
Metal Braces are traditional Braces and the most commonly used type of Braces in Chandigarh. They consist of metal brackets that can be attached to your teeth with special glue and metal wire. These types of braces are very effective and affordable. They can provide a wide range of orthodontics problems and are suitable for both adults and children.
However, Metal Braces have some disadvantages as well. They are noticeable which can affect your confidence. They can also create difficulty sometimes while eating and cleaning your teeth. In addition, Metal Braces requires regular visits to your orthodontist for the adjustment and maintenance of your teeth.
The cost of Metal Braces in Chandigarh is around Rs 25000.
2. Ceramic Braces –
Ceramic Braces are similar to Metal Braces in terms of their function as well as structure. But they have one big difference. They are made up of tooth-coloured or ceramic material that blends in with your natural teeth. Ceramic Braces are less visible than Metal Braces and can offer a more aesthetic option for those who are conscious about their appearance in public.
Ceramic Braces are also very affordable and effective and can treat many orthodontics problems. However, they also have some disadvantages. It is very expensive than Metal Braces, it requires more care and maintenance and the cost of Ceramic Braces in Chandigarh is around Rs 50,0000.
3. Clear Aligners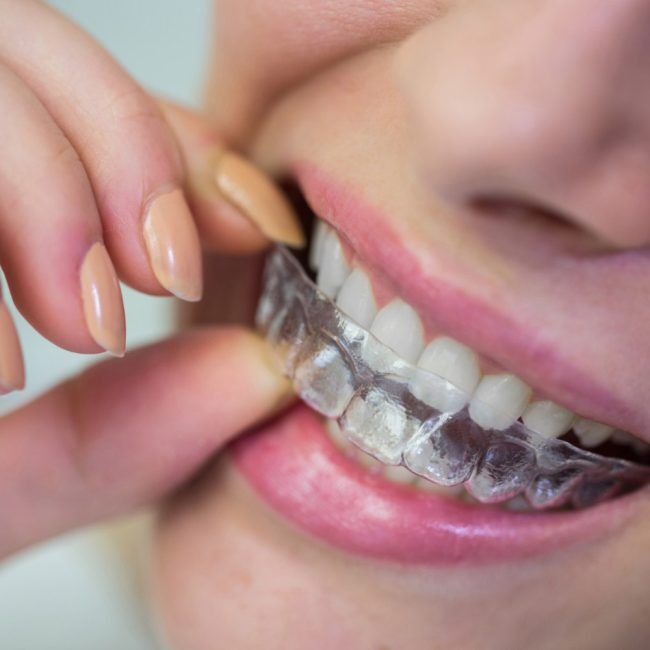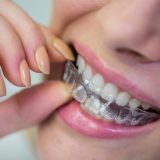 Clear Aligners are the modern alternative to traditional Braces in Chandigarh. They are removable trays which can be custom fit to your teeth easily. In addition, Clear Aligners are made up of clear plastic material that is virtually not visible in your teeth and you can take them off while you eat, drink or brush.
Clear Aligners are very comfortable and easy to use. They can treat small to big orthodontics problems. But they have limitations as well. The cost of Clear Aligners in Chandigarh is around Rs 1,00,000. They are very costly. They require proper maintenance and they need to be changed every 2 weeks.
Dial 8219820535 and Schedule your appointment with us
Braces are an ideal way to improve your smile and oral health. But they require proper care and maintenance. Many factors can influence your choice of Braces. Such as your budget, choice or your dental condition. It is important to consult with an experienced Orthodontist in Chandigarh like us who can asses your situation and recommend the best option for you.
So if you are looking for reliable and the Best Braces in Chandigarh you can Dial 8219820535 and Schedule your appointment with Dr Sharma's Dental Hub. We offer high-quality and professional dental services that can provide you with the best possible care and results.
Do you know Braces can transform Both your smile and life? so Don't Hesitate to Dial 8219820535 and Schedule your appointment with us.
Other Blogs