Dental Implants in Chandigarh
Dental Implants in Chandigarh – Dental Implants are a widespread dental treatment. It is a permanent solution to missing teeth and offers various benefits to patients. In this article, we will discuss what dental implants are, the benefits of dental implants and why you should consider us for getting the treatment of your dental implants in Chandigarh.
What are Dental Implants?
Dental implants are designed to function as artificial tooth roots, securely placed within the jawbone to provide a stable foundation for supporting a replacement tooth or bridge. It is made up of titanium, a biocompatible material capable of fusing with the jawbone over time. It allows the implants to provide a stable foundation for the replacement tooth.
Benefits of Dental Implants
Here are a few benefits of getting dental implants.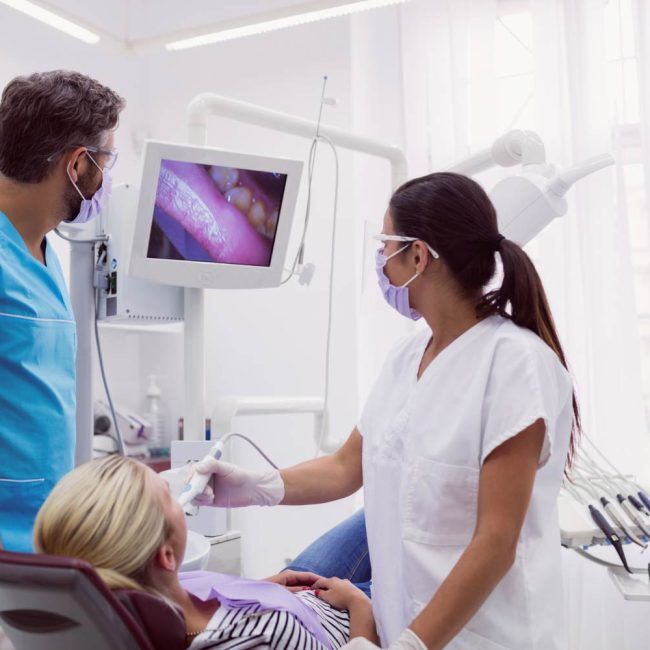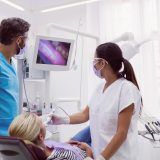 Improve Function – Dental implant functions like normal teeth. So, you can eat your food without any worry. In addition, it does not require any special care and maintenance.
Improve Speech – Missing teeth can sometimes create problems while speaking. Therefore, it can help you to speak clearly and fill the gaps in your smile.
Looks Like Natural Teeth – Dental Implants look like natural teeth. So, it can improve the overall appearance of your smile.
Improve Comfort – Dental Implants are secured to the jawbone. They don't move around like dentures. This can make them more comfortable.
Why get Dental Implants in Chandigarh
Chandigarh is the home of many dental clinics that specialize in dental implants in Chandigarh. Here are a few reasons to consider us for dental implants in Chandigarh.
Experienced dental professionals – Our Dental Clinic in Chandigarh has a team of experienced dental professionals. They can help you and ensure that you receive the best dental care treatment.
Comfortable environment – Our Dental Implant clinic in Chandigarh is designed to provide a comfortable environment for the patients. It helps to make your treatment relaxed.
Affordable Prices – The cost of dental implants can be very expensive. But, being the best Dentist in Chandigarh, we offer competitive prices for our services.
Modern Technology – Our dental clinic in Chandigarh has modern technologies and equipment. It helps to make your dental implant treatment less stressful.
Get the Best Dental Treatment Services at Dr Sharma's Dental Hub
No one can ignore Dental implants when identifying the most popular form of missing tooth replacement surgery. It can be known as one of the best surprises for modern dentistry. Although, with the help of Dental implants, one can get natural-looking teeth which look and function the same as an original.
You must choose the best oral treatment if you are specific about your dental care. We are one of the best options for dental implant services in Chandigarh. At Dr Dental's Hub patient is not just getting high-quality care for their dental problems. But additionally, they can enjoy other dental care cure benefits as an add-on.
Headed by Dr Atulya Sharma, Dr Sonica Sharma and Dr Puneet Sharma, our clinic has years of experience in placing implants. It is the best option for replacing bad or missing teeth. We use top-quality systems such as Ankylos, Bio Denta, Bio Horizon and Nobel Bio care to replace your missing teeth.
Steps of Implants Performed at Our Clinic
In our first meeting, our dentist will understand your requirements and then make digital scans.
A complete model of your teeth we build to see your jaws as well as teeth clearly. It helps to decide to identify which treatment is the best for you.
Our implant treatment is very much comfortable. In addition, our implant technologies make the complete treatment process very much faster.
However, if you want to know the exact amount of this treatment cost, then let us tell you that the cost totally varies on the implant system type and the bone quality. At Dr Sharma's Dental Hub, we pride ourselves in offering and using the best quality research and technology.
Get Dental Implants in Chandigarh as well as increase your confidence. We offer almost all internationally accepted dental implant systems.
Conclusion
In conclusion, dental implants are a very popular dental treatment for patients. If you are considering getting dental implants in Chandigarh then you can contact us. We can provide you with high-dental care and help you achieve the smile you wanted. So why wait, schedule your consultation with us to learn about how dental implants can benefit you.
Other Blogs